Breakthrough of Electronic Nose and Electronic Tongue Used to Distinguish Different Kinds of Eggs
The scientists from the monogastric animal feed innovation research team of the Institute of Feed Research of the Chinese Academy of Agricultural Sciences found that eggs from different breeds could be discriminated by electronic sensory evaluations combined with different algorithms, and provided theoretical support for egg flavor research and breed identification. The results were published online in Foods.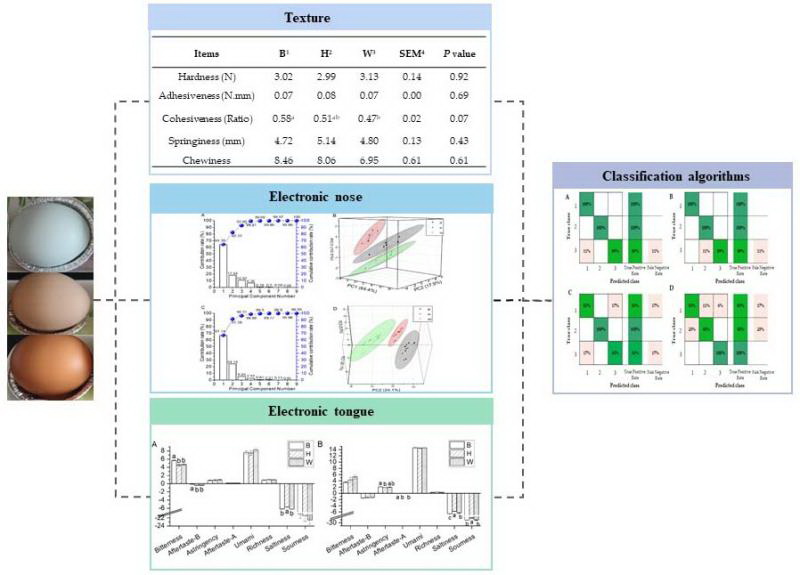 Chief Professor Wu Shugeng said the sensory qualities including texture, smell and taste parameters are various in eggs of different breeds and affect consumers' choices and market prospects. The electronic nose and the electronic tongue were used in this research to analyze egg yolks and albumen from Beinong No.2 (B) laying hens, Hy-Line Brown (H) laying hens and Wuhei (W) laying hens. Principal component analysis (PCA), linear discriminant analysis (LDA), k-nearest neighbor (KNN), support vector machine (SVM) and decision tree were applied in the discrimination analysis. The smell profiles measured by the electronic nose illustrated that differences existed in all 10 sensors for albumen and 8 sensors for yolks. The taste profiles measured by electronic tongue found that the main difference of egg yolks and albumen existed in bitterness and astringency. The egg yolks of Hy-Line Brown had lower bitterness value and higher saltiness. Eggs from three breeds could be discriminated by PCA, LDA, KNN and SVM algorithms based on electronic nose.
The research was supported by the Beijing Innovation Team Project of the Poultry Industry Technology System.
Original link: https://doi.org/10.3390/foods10091984